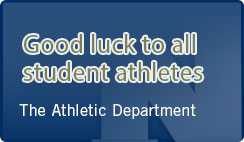 Boys Tennis - 2021
Hi Everyone,
Thank you to everyone for a very successful spring 2021 season! The boys completed the regular season at 9 & 5 and qualifying for State's! They played well but lost in the first round to South Windsor, finishing the season at 9 & 6. Congrats are in order to our No. 1 player, Matt Utter - who was named All State Tennis for 2021!


Hi Everyone and welcome to the Newington High School Boys Tennis website!
My name is Don Lukowski and I am the Boys Tennis Coach here at Newington, just completing my 23rd year.
___________________
Our program consists of 2 levels; Varsity and JV. What is unique about our program is that we have a no-cut policy. All student-athletes who try out for the team are kept. In my opinion, this is the best way to build a team for the future. We carry approximately 10 to 12 players on Varsity and the remainder on JV.
The JV players will have their own game schedule,
My philosophy is that I want my players to develop both academically, as well as athletically. We stress the importance of grades in the overall development of the player. The academic side is a high priority with me.
Also, I want my players to enjoy the sport and have fun in the process. Winning is important..... but it's not everything. I want my players to strive to be their best and to enjoy their time on the court with their teammates.
Freshmen and other first time players:
We are always looking for new players - with or without any tennis experience. If you have an interest in tennis - I would hope that you would consider joining our team! Please feel free to contact me at DonL7533@aol.com or call me at 860-229-7533 with any questions.
Thank you for visiting our website - if you have any questions, please feel free to e-mail me at DonL7533@aol.com
thanks again, Coach Don Lukowski

|

|

Share